Return
domaine skiable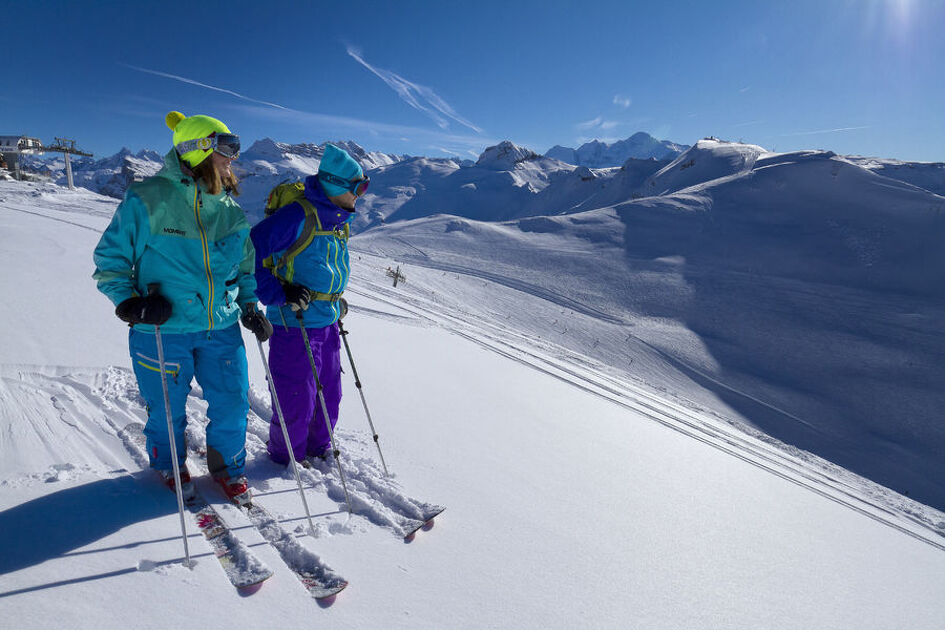 265 km of pistes and 5 interlinked resorts (Flaine, Les Carroz, Morillon, Samoëns, Sixt-Fer-à-Cheval)). For many years they were used as a training ground by Antoine Deneriaz, the gold medal winner in the downhill event at the 2006 Winter Olympics.
Description
Thanks to its geographical location, the Grand Massif enjoys abundant, regular snowfalls throughout the season, and the area is well known for the quality of the snow in spring. 80% of the slopes are north-facing, allowing the snow to lie for longer and remain in good condition.

The Grand Massif features some exceptional spots:
- The Combe de Gers with its dizzying 800 m drop and untouched snow!
- The blue Cascades piste running for 14 km from the summit at Flaine to Sixt Fer à Cheval
- The Marvel piste that provides beginners with a 5 km run through the heart of a forest over a century old

The Grand Massif, freestyle version
There are three jamparks for the greater joy of beginners or experienced freestylers alike.
Find out more on www.jampark.com
Environments
Mountain location

Ski resort
Rates
Adult day: 57.50 €
Child day (8-15 years): 46 €.

Free entry for children < 8 years, people > 74.

Points of sale :
- SIXT Les Vagnys
Opposite the restaurant le Rouet
- SAMOENS 1600 Les Saix
Plateau des Saix
- SAMOENS Vercland
Departure of the cable car
- SAMOENS Grand Massif Express
- MORILLON Les Esserts
Arrival Gondola
- MORILLON Village
Departure Gondola
- LES CARROZ Les Molliets
In front of the restaurant Le Chalet des Molliets
- LES CARROZ Kedeuze
- FLAINE Grands Vans
- FLAINE Combe de Vernant
Departure of the Lake chairlift
- FLAINE Grandes Platières
Departure DMC

SKICARD
All rates are excluding ski-card (+2€ per pass) mandatory for all durations. Non-refundable refillable support.

"My Ski Insurance": 3.60€ / day / person (rescue costs, transport & search, equipment rental, ski lessons).
Payment methods
Bank/credit card

Check

Travellers Cheque

Cash
Bons plans
Free wi-fi zones are available in the ski area:

Flaine
- Departure of the DMC
- Departure of the Aup de Véran cable car
- Salle hors sac de Vernant
- Salle hors sac de l'Aup de Véran

Morillon
- Departure of the cable car
- Caisses des Esserts

Samoëns
- Departure of the Grand Massif Express cable car
- Arrival of the Grand Massif Express gondola lift
- Arrival of the Saix cable car

Les Carroz
- Departure of the Kédeuze cable car
Opening period
From 23/12/2023 to 14/04/2024.
Flaine closed on 21 April.
Sixt-Fer-à-Cheval closes on 17 March.
Languages spoken
English

French
Adapted tourism
Hearing disability

Mental disability

Accessible for self-propelled wheelchairs
Location
2 motorway exits to come as quickly as possible, Cluses Scionzier for Morillon, Samoëns and Sixt fer à Cheval or Cluses Centre for Les Carroz and Flaine.
Free ski-bus shuttles. In high season, Septitrain shuttle bus between the village centre and the Grand Massif Express cable car.
Documents
Informations domaine skiable
Nombre de pistes : 139

Nombre de pistes vertes : 23

Nombre de pistes bleues : 61

Nombre de pistes rouges : 44

Km de pistes : 265km

Nombre de remontées mécaniques : 62

Remontées gratuites : Yes
Animals
Pets allowed : No