A Family Travel Destination
FAMILY SKI HOLIDAYS
LES CARROZ, THE CHILDREN'S SKI RESORT!
Looking for somewhere to take a great family ski break? Are you asking yourself lots of questions to make the best choice? Where should we go skiing in the Alps? Which ski resort offers the best price advantage? Which activities are available other than skiing?
Well, Les Carroz is THE family ski resort par excellence!
A great family ski holiday is made up of a recipe with several ingredients: a resort-village atmosphere where you will find refuge in cosy chalets or apartments; an XXL ski area which offers all kinds of skiing possibilities, particularly for your beginner-level children; activities other than skiing thanks to which you can add excitement your stay according to your wishes; arrangements offered to help you organise your week…
Les Carroz's recipe for family ski holidays fulfils all these essential criteria, so the mountain remains a lasting pleasure to share with your loved ones. The resort is looking forward to welcoming your tribe and helping them enjoy an exceptional week. Because, of course, knowing that you're happy in return is the cherry on the cake. Before you arrive, we'd like to give you some practical information…
---
1. A FAMILY ATMOSPHERE
A great ski holiday in the Alps with all the family starts by choosing a friendly ski resort.
In this respect, the resort village of Les Carroz rolls out the red carpet for families. Throughout your ski holiday, you will appreciate the human-scale village spirit of Les Carroz and its architecture of cosy chalets… It's an ideal setting for family get-togethers, discovering snow holidays, and, above all, learning how to ski.
Here, we share the real-life experience of a pioneering winter sports resort that reveals all its character – nature, sports and, above all, family-friendliness…
In a nutshell, the life of a mountain village perched at 1200m, where you and your family will find refuge in charming cocoons.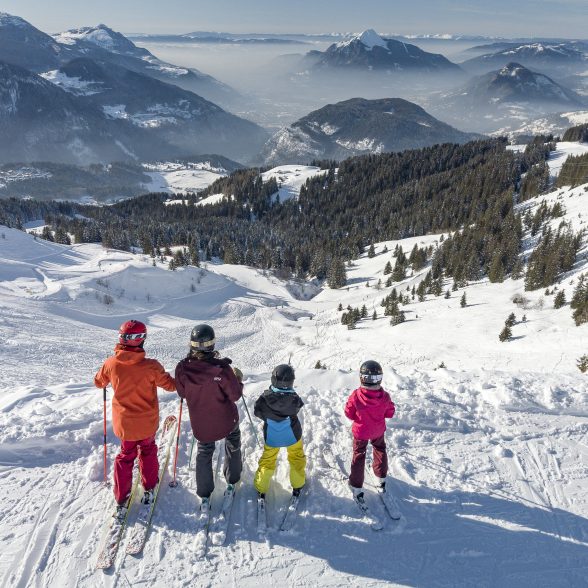 2. THE FIRST BENDS OF YOUR SKI HOLIDAY
When you go on a family ski holiday, your children often experience their first bends and plant their poles for the first time. Here's a tour of the best spots to get started in peace and quiet:
THE SNOW GARDEN
The Les Carroz snow garden is dedicated to teaching young ones (aged 3 and over) how to ski. Its advantages? Exposure to the sun, two covered treadmills, fun (and new) modules and a spot at the foot of the cable car are appreciated by parents, skiers and non-skiers alike.
FIGARO ZONE
The Figaro zone is a completely free beginner zone. Between the cable car and the village, it's easily accessible all day long! Figaro has a covered carpet, where parents love to take their little beginners to start practising their first bends on the green "Figaro" slope of the same name.
COIN COIN SLOPE
At the arrival of the cable car lined with fir trees, the green slope for young skiers is equipped with a covered carpet and a gentle ski lift. The bonus? A view of the Aravis massif and easy access for parents returning from skiing (pedestrian cable car access for non-skiing parents).
PLEIN SOLEIL SLOPE
The "plein soleil" blue slope is the instructors' favourite area for gently teaching children the joys of skiing and snowboarding and continuing to improve. As the name suggests, it's all about learning to ski in the sunshine.
3. SKIING AND HAVING FUN IN THE PLAY ZONES
Skiing, exhilaration, having a blast, enjoying yourself… The family-friendly resort of Les Carroz does everything it can to make your family ski holiday unforgettable. For this, head into the play zones of the ski area.
The Cool Zone at the Oasis
It's a 100% pure gliding area for children. Head for the Cool Zone at the Oasis, an unmissable place where the palm trees are immaculately white. On the programme: the first small jumps and sensations on a boardercross, also in a family version (blue level). And don't forget to relax on the deckchairs and footstools in this play area.
Boardercross
The boardercross area in the Cool Zone (blue level) offers the whole family and young skiers the chance to try out banked curves, jumps, "whoops", and "bump ball".
With the whole descent being filmed, now's the time to challenge the whole family! Kids love elbowing mum and dad!
Once well-trained on this fun course, it's time to head for the Gron boardercross (red level).
Located in the Gron valley – 4 starts and 8 bends for a descent lasting over a minute.
A chairlift selfie
During your ski holiday, there are some photos you just can't take on your own!
Strike a pose and immortalise your ascent of the Tête des Saix chairlift thanks to an automated photo system.
Collect your chairlift selfie at the finish to share your photo and make others envious.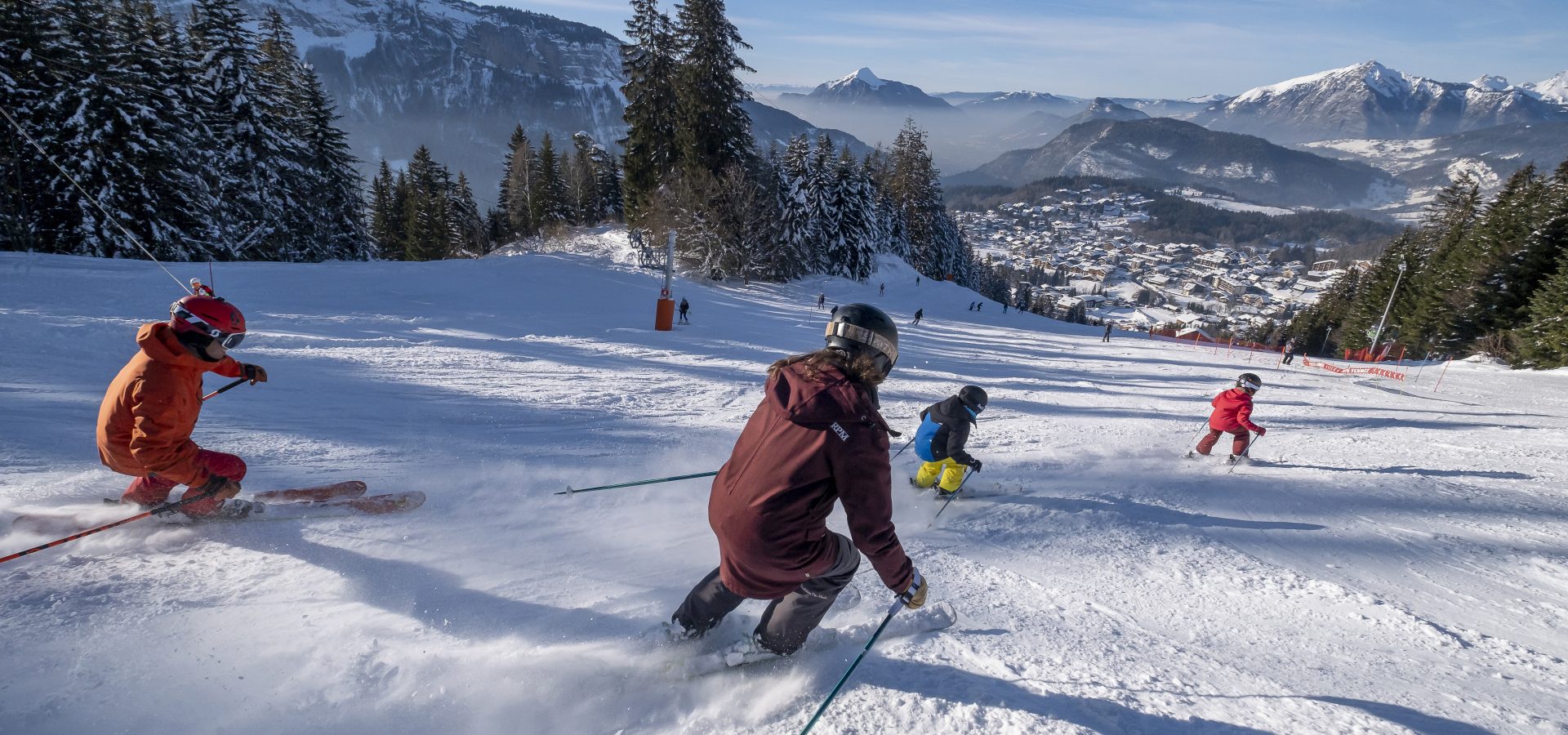 Discover our two special ski offers for your family holidays:
Free: your children under 8 get free ski passes!
Early Booking: the key to a stay at the best price! The advantages of Early Booking are reduced rates of up to 20% off your package holiday (6 days or more) and peace of mind for a worry-free holiday with the Serenity advantage! This special offer is available exclusively online on the Grand Massif website.
Carroz Beginner's Package: a gentle introduction to the Carroz ski area.  Use the mechanical lifts included according to your experience or the progress of your level.
5. TIPS AND FAMILY ACTIVITIES
« Easy » family ski holidays with tips from Les Carroz!
Start your winter adventure with us at Les Carroz – a family-friendly ski resort – by taking advantage of the all-inclusive or tailor-made offers available from the Booking Centre. You can find the best choice for your family in just one click.
Ski lockers are available every evening to store your ski equipment. Not only will you be able to navigate the streets of Les Carroz with ease, but you'll also find your shoes warm in the morning!
And that's not all: the Kid'O'Ski package is a must if you want to enjoy your family holiday with complete peace of mind while letting your children enjoy the mountains to their fullest. The resort's facilities also cater for your children: the crèche (6 months to 3 years) and the children's club (3 to 12 years).
It's impossible to get bored!
Les Carroz is committed to making your skiing holiday a time of discovery and experience with your children. Who said you can only spend your time skiing down the slopes?
Create some incredible memories with the many activities on offer: sledging on rails, dog-sleigh driving, sledging in a group, ice-skating, etc…
Experience the thrills and chills of the season's entertainment: fire shows, welcome drinks, introductions, concerts, strolls… Head for the aptly named Place de l'Ambiance. This entirely pedestrianised area is the place to be for all the winter highlights. Your children will have stars in their eyes and beautiful memories to take home.