Return
equipement
Chasse au Trésor "Les Outils d'Autrefois"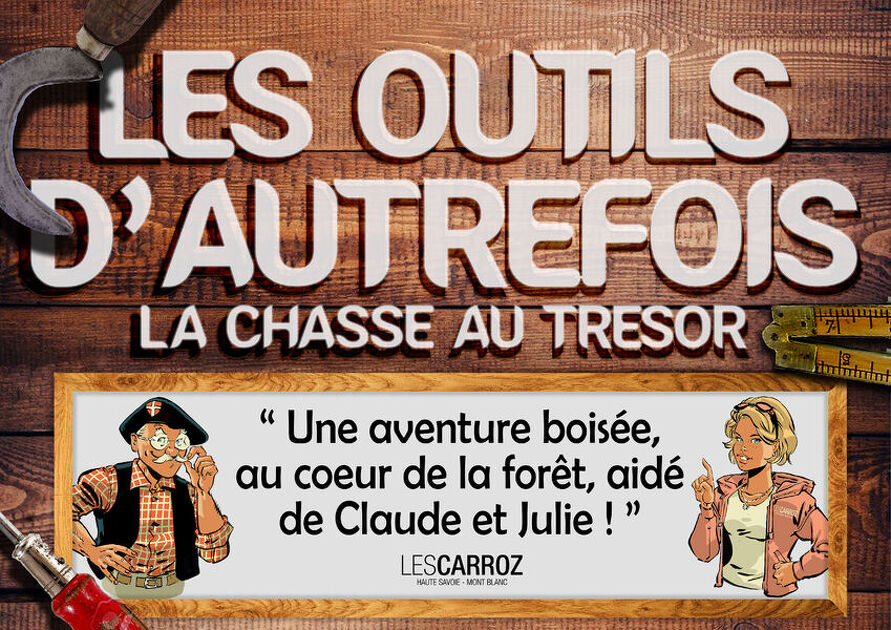 Discover the Carroz with this 100% Free mobile track game! A family activity, (only in french) !
Description
SCAVENGER HUNT - THE TOOLS OF THE PAST

"Easy" (3-6 years): #CARROZOUTILS1
"Classic" route (+6 years): #CARROZOUTILS2

Gustave, Claude's father, worked at the Carroz sawmill, almost 70 years ago. While searching his attic, tools were found there. We need you to find out what they're for, in the heart of the Carroz forest!

During a walk in the forest offering beautiful panoramas, you will have to solve puzzles, answer questions, decipher codes, to reconstitute Gustave's toolbox.

Duration: 2h to 3h (attention: walking time can be long for young children, despite puzzles within their reach)
Distance: about 4km +- 230m elevation gain
Departure and Arrival: Place de l'Ambiance
HOW TO PLAY? Everything is done in autonomy
- Download the "Geodyssey" App (free), from the Play Store or the App Store.
- Enter the desired difficulty QR code after clicking on the yellow "Direct access" button.
- Follow the instructions, decipher the riddles

ADVISED EQUIPMENT
- Smartphone with charged battery
- Warm, waterproof clothing
- Walking shoes
- Sun protection
- Water and snacks
- No strollers on the route

Available only in French, on most smartphones (Android version >5.1 and iOS)
Equipment
Hide and seek/treasure hunt
Environments
Forest location
Opening period
All year round.
Languages spoken
French
Location
Animals
Pets allowed : No